Despite all of the drama from Friday leading into Saturday which resulted in a 2 stroke penalty, Tiger Woods has played himself into a position where he is in contention for the Green Jacket at Augusta. But to do so, Woods will have to do something he has never done in a Major, come from behind after 54 holes to take the title. He is 0 for 46 in comebacks in Majors and enters Sunday 4 strokes behind leaders Brandt Snedeker and Angel Cabrera who sit at 7 under par.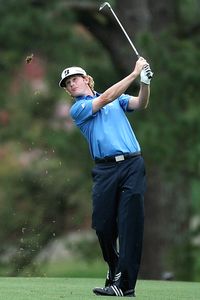 Snedeker looking for first Major
Woods has been extremely solid in 3 rounds this year, despite the 2 stroke penalty on Friday. He was able to stay in the tournament with some key par saves late in the round on Saturday.
Another obstacle for Woods to capture another Green Jacket is the field that sits ahead of him. A handful of players who have been right there with chances of grabbing a Majors Title sit between Woods and the lead including Adam Scott who looked to have the Masters Title recently only to have it taken away by Charl Schwartzel in 2011. Co-Leader Brandt Snedeker was in the final group in 2008 only to fall short of the title, leaving him in tears. Angel Cabrera seems to fly under the radar until it comes to Majors where he is always a factor.
Matt Kuchar who sits at 4 under has 5 titles on the PGA tour and it only seems a matter of time before he breaks through in a Major. Australian Jason Day, finished 2nd in the 2011 Masters and US Opens and appears to be back to his 2011 form. He enters Sunday at -5.
For Woods to make up the 4 shot deficit and make history with a Masters Sunday comeback, he will likely have to shoot the best round of his career in a Major. A round of 66 or 67 puts him in the conversation but he will need help from a really solid group of players ahead of him.
Whether Woods can add another Majors drama on Sunday remains to be seen, but with the names sitting atop the leader board, we are headed for an eventful Masters run to the Green Jacket. Fasten your seat belt.