The JackRabbits of South Dakota State have punched their ticket to the Big Dance after defeating North Dakota State 73-67.
Nate Wolters had a huge game with 27 points 6 rebounds and 6 assists to lead SDSU to the win.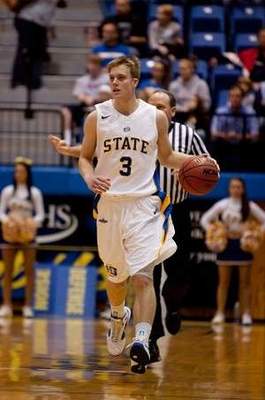 Nate Wolters
The game was competitive throughout going back and forth in the first half but the Jackrabbits gained an advantage in the second half and were able to keep the Bison at arms length.
The game feature two teams who won more than 24 games on the season. SDSU enters the NCAA Tournament with a 25-9 record.
The Jackrabbits made hay at the free throw line in this game shooting 21-23 from the strike, 91.3 percent. They won the rebounding battle by a margin of 27-23 including 6 offensive rebounds.
Jordan Dykstra chipped in 18 points and 7 rebounds while Tony Fiegen had 12 in the contest.
The Jackrabbits finished the season strong, entering the NCAA Tournament with 4 straight wins and having won 14 of their last 17 games.
SDSU should be prepared for the quality of the NCAA Tourney having played Alabama, Minnesota, Belmont and New Mexico in out of conference play this season.