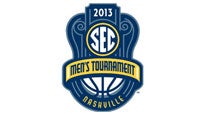 In the SEC tournament on Friday, 2nd seed Kentucky fell hard to Vanderbilt in the quarterfinals 64-48. Now the question arises, will the Wildcats be in the NCAA Tournament field?
Kentucky finishes the regular season with a 21-11 record. Their 12-6 SEC record was good enough to tie for second but if you look at their quality wins, not that impressive. The only ranked opponents they have defeated was #11 Florida and #16 Mississippi. They have losses to ranked opponents such as Duke, Louisville and Florida. Conventional wisdom has them in the field and bracketologists (for what it's worth and that is not much in my book) have them as one of the last four in, in most cases. But it is certainly something to keep an eye on Sunday night.
As for the rest of the SEC, with the exception of a well coached Vanderbilt team who defeated Kentucky in the quarters, the top seeds advanced. Top seeded Florida will face 4th seed Alabama and 10th seed Vanderbilt will face 3rd seed Mississippi on Saturday.