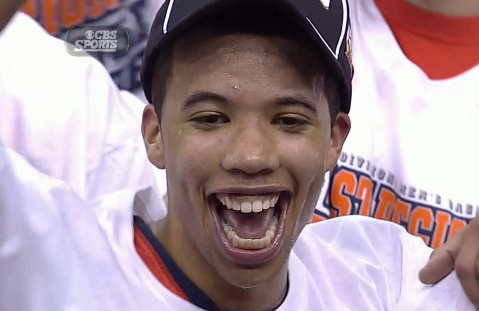 It wasn't exactly pretty and Syracuse didn't set the world on fire offensively, but the Orange used their 2-3 zone defense to perfection in blowing out Marquette, 55-39, to earn yet another Final Four appearance.
A trio of double digit scorers - James Southerland (16pts), C.J. Fair (13pts), and Michael Carter-Williams (12pts) - were the stars of the East regional final for Syracuse. All three also got it done on the defensive end of the court as well.
The Orange are going back to the Final Four for the first time in ten years, coincidentally also the last time they won the national championship. As for this game on Saturday afternoon in Washington, D.C. on rival Georgetown's home court there's really only one question that matters.
Was it poor shooting by Marquette or was it good defense from the Orange that won it? That will be the big debate that will be all over sports talk radio come Monday morning, just you watch. However, after watching this team all tournament long it's hard not to say it was all about the Syracuse defense.
They've frustrated every one of their opponents from the outside, none more that Marquette who couldn't hit contested or wide open looks from deep on their way to shooting 3-24 from beyond the arc.
Yes, if you are doing your math that's just 12.5% shooting from deep. The numbers don't get much better for the Golden Eagles overall as they managed to shoot just 22.6% from the field. About the only thing that went right for them offensively was their free throw shooting, going 12-16 from the line, but that wasn't nearly enough to outdo what Syracuse was doing to them with their famed zone defense.
The Orange suffocated every Marquette attempt to probe the lane, contested nearly every screen and roll and simply made the Golden Eagles a stationary passing team on the perimeter. That's exactly what the zone is designed to do to teams and the game plan worked to perfection on Saturday.
Taken alone the numbers for Marquette could surely be attributed to a bad shooting day, but thankfully we have the ability to look at what the Orange's opponents have done all tournament long and it shows a picture of just how good they've been defensively.
For the tournament opponents are shooting just 29% from the field and an even worse 15% from three-point range. Those numbers paint a picture of a team not getting lucky against a cold-shooting opponent, but rather one who's defense is hitting on all cylinders.
On the flip side of how awesome their defense was, Syracuse really struggled to score on their own Saturday and it had a lot to do with Marquette giving the Orange a taste of their own medicine. 'Cuse shot just 38% from the field and 29.4% from deep (5-17) in the win.
Syracuse will be heading to their fifth Final Four in program history next weekend in Atlanta and will take on the winner of Ohio State vs. Wichita State from the West regional.