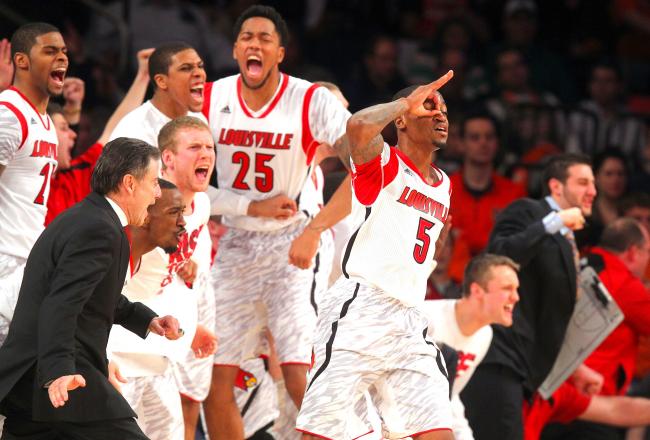 The Big East will live on in name to be sure, but the spirit of the old Big East is dead. Gone will be some of college basketball's greatest rivalries. However, the conference and most importantly, Louisville, wouldn't go out without leaving one last memorable moment from one of the iconic tournaments in college basketball.
As fans we should be thankful for what we all witnessed on Saturday night. Of course, being the crazy sports fan I am I was bouncing around the channels catching other games, especially since the 'Ville was getting an ass kicking at the half and into the start of the 2nd half.
But then, for some strange reason I decided to turn back to a game that was all but over. The clock read 16:04 and boy did I get lucky with that as I was witness to one of the greatest moments in Big East tournament history. A history as rich as anything the NCAA tourney could give you.
That's because the Cardinals erased a massive deficit themselves and went on to crush.... I mean C-R-U-S-H the stunned Syracuse Orange. They were down 16 points with 15 minutes to go, good luck coming back right?
Ahem.... Someone forgot to tell Rick Pitino's bunch about that as they went on a freaking 44-10 run to end the game, winning 78-61. A score that most who saw the first half would've associated with Syracuse winning.
Instead the Orange managed a whole one made field goal in the final 15:51 of the game and saw Louisville do whatever, whenever they wanted in route to establishing themselves firmly as a No. 1 seed in the NCAA tournament.
For a tournament that gave us so many memories, this was perhaps the best possible way to say goodbye and see you later. We'll never forget the awesomeness that was this tournament in it's current form and we'll never forget how it all ended either. Thanks for the memories.
Perhaps most fitting of it all? Louisville refusing to cut down the nets at The Garden as a symbol of respect to what has taken place in that building over the years.