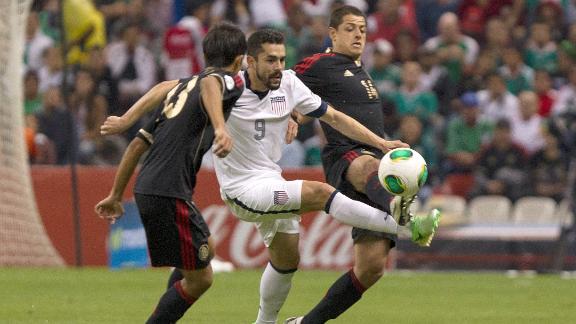 Herculez Gomez splits Chicarito
There are moments in sporting history that you simply don't forget. Whether it's your favorite team winning a championship, or an improbable comeback, or that magical undefeated season. Whatever it is you know it right away, it's a moment that you'll be able to replay for the rest of your life like you were there for the first time.
On Tuesday night one of those moments happened in a game that ended without a victor. Yes, it was a 0-0 tie in soccer, however this wasn't your ordinary soccer game either. This was USA versus Mexico, the two Goliath's of North American soccer going at it and if you're a fan of the United States Men's National Team you are likely to never forget this game.
If you missed the game, then you missed a clinic in heroic defense on a soccer pitch, as the United States withstood a barrage of corner kicks (14 in all) and constant pressure (17 shots on goal for Mexico to just 1 for the USA). Yet, they never failed to come up big when they needed to - especially the thrown together central defensive pairing of Omar Gonzalez and Matt Besler (making just his 2nd appearance for the national team).
For United States soccer fans the moments of pure joy and unbridled success are few and far between, especially at Estadio Azteca against the rivals to the south - Mexico. It's a moment for United States soccer fans to celebrate for two reasons, the first of which was the point they earned on the road in the final round of CONCACAF World Cup Qualifying, a point that put them tied atop the standings in the region. The second? It's just the 2nd ever point in 15 tries against El Tri in Mexico. Clearly no easy task at all and perhaps a sign of the change in the mentality of playing south of the border.
This isn't just a game between these two teams, although it used to be seen that way for nearly 50 years, that is until "little brother" a.k.a the United States started beating the crap out of "big brother" a.k.a. Mexico on United States soil once again. Winning against America suddenly wasn't a given and in most cases if a win was to be had it now must be worked for with effort.
Some have already said this is the best rivalry in international soccer, topping the likes of anything you'll see from Brazil-Argentina, England-Germany, Germany-Netherlands, or Spain-Portugal and after tonight it's hard to argue that it's not the best in the world anymore.
Why say that? While the United States didn't come out and win the match, this result coupled with the first EVER win of any kind on Mexican soil in the 71 years these two teams have played in Mexico last time out at Azteca has taken some of the luster off the stigma of playing El Tri at home in the "vaunted" cauldron one and a half miles into the air.
Tonight, what we all witnessed reminds me of a similar result back in the mid-90's at home in Los Angeles where the United States did what they weren't supposed to do, win against Mexico period. That moment back in the day served as the shot across the bow to say "hey, we're here and we ain't going anywhere," and after what's transpired the last two times in Mexico City, we could look back at this simple 0-0 draw for what it was - heroic and historic.